A global solution for leadership in child protection
By being a supportive or certified business you demonstrate a leading role in child protection – you emphasize that you're responsible to your customers and you contribute to a sustainable future for your staff, business and broader community.
Businesses play a key role in protecting children globally. By being a supportive business and demonstrating a commitment to taking a leading role in child protection, you can help build a positive, strong community environment that cements the most important element for children, their family.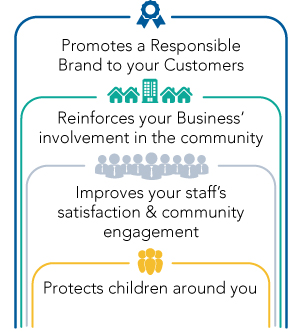 Millions of children are pushed onto the margins of society around the world. They are exposed to abuse and exploitation and often adopt risky behaviors to survive.
ChildSafe's initiatives provide the highest standards of protection to all children and youth, involving key members within all tiers of society and the international community
 While developing innovative programs we seek to strengthen their immediate environment by empowering strategic members of governments, authorities, local communities, and businesses. Known as ChildSafe Agents, they are trained and certified to identify and respond immediately to a child in danger.
 Vulnerable children recognize the ChildSafe logo, which means safe refuge for them. And for anybody faced with child abuse, the ChildSafe hotlines are accessible 24 hours / 7 days a week and managed by social workers who are in the best position to take appropriate actions.
 For over 10 years, we have advocated for child protection policies and practices.  You can be easily part of our Movement by spreading the word or by becoming a ChildSafe Certified company.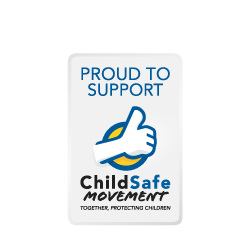 ChildSafe Business Supporter
Shows your business cares for children
Promote ChildSafe to your clients
Get your Staff ChildSafe certified & involved in child protection
Think about your impact on children (see our 7 Tips)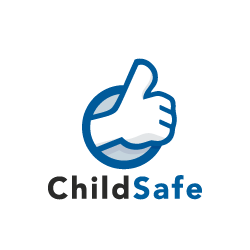 Childsafe Business Certified
A responsible brand for your customers
Adopt the ChildSafe 7 Standards
Assessment carried out to identify gaps
Receive support to create a ChildSafe Business
International
Cambodia
Travel Agencies in Cambodia
Indochina Expedition Travel – IE
Easia Travel (Vietnam, Laos, Cambodia, Myanmar)
Hanuman Tourism
ABOUTAsia Travel
Buffalo Tours
TERRE CAMBODGE
A.P Adventures
Khiri Travel DMC
Travel Indochina
Intrepid Cambodia Co., Ltd
Carpe Diem Travel
Angkor Grand Adventure Tours
Mango Cambodia
Cotravel
Hotels in Phnom Penh
Plantation Group Cambodia
FCC Phnom Penh
The Pavilion Hotel
Amanjaya Pancam Suites Hotel
Meng Goldiana 282
Town View Hotel
Anise Hotel
Amber House
Kabiki Hotel
Almond Hotel
Bougainvillier Hotel
Raffles Hotel Le Royal
InterContinental Phnom Penh
Blue Lime
Sunway Hotel Phnom Penh
Lebiz Hotel & Library
Cardamom Hotel
Omana Hotel
Mysteres & Mekong Hotel
Eureka Villa
The Plantation Hotel
One Up Banana
Envoy Hostel
Skyline Boutique Hotel
Willow Boutique Hotel
White Mansion Hotel
The 252 Hotel
Number Nine Hotel
St. 288 Hotel & Serviced Apartments
Samsara Villa
Rambutan Resort Phnom Penh
Phnom Penh Hotel
River Palace Hotel
Green Palace Hotel
Jasmin Monument Hotel
Restaurants in Phnom Penh
Friends The Restaurant
Romdeng
Hotels in Siem Reap
Allson Angkor Paradise Hotel
Amansara Resort
Angkor Discover Inn
Angkor Holiday Hotel
Angkor Palace Resort & Spa
Angkor Star Hotel
Babel Guesthouse
Borann, I' Auberge des Temple
Bunnath Guesthouse
Casa Angkor Hotel
Earth Walkers Guesthouse
European Guesthouse
FCC Angkor
Golden Oranges Hotel
Hanumanalaya Angkor Boutique Residence
Home Sweet Home Guesthouse
Khmer Inn Angkor Guesthouse
La Maison d'Angkor
La Noria Hotel
La Residence d' Angkor
Mekong Angkor Palace Hotel
Men Bora Hotel
My Home Guesthouse
Mysteres d' Angkor Hotel
New AngkorLand Hotel
New Riverside Hotel
Pacific Hotel
Paradise Angkor Villa Hotel
Passaggio Boutique Hotel
Prum Bayon Hotel
Raffles Grand Hotel d'Angkor
Rithy Angkor Guesthouse
Rosy Guesthouse
Royal Empire Hotel
Shinta Mani Hotel
Sojourn Hotel
Somatevi Angkor Resort
Soria Moria Hotel
Tara Angkor Hotel
The Bagpacker
The Villa Siem Reap
Victoria Angkor Resort & Spa
CLAREMONT ANGKOR HOTEL
Sala Bai Hotel School
Le Jardin des De'lices (Ecole de Tourisme Paul Dubrule)
Hangout Hostel
Baby Elephant Boutique Hotel
The Aviary Hotel
Hotels in Sihanoukville
Monkey Republic
Reef Resort
The Small Hotel
Power House
J J's Countrykitchen
Sbov Meas
Sihanoukville Villa Hotel
Beach Road
Above Us Only Sky
COOLABAH RESORT
DON BOSCO HOTEL SCHOOL
Mien Mien Otres
Others
China
Myanmar
Thailand
Hotels in Thailand
Wendy House
New Siam I
New Siam II
Panee House
New Joe Guesthouse
Viengtai Hotel
New World City Hotel
Become a ChildSafe business
If you're interested in becoming a ChildSafe Supporter or a Certified Company, please contact us.
Contact Us